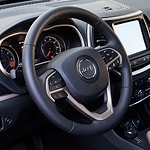 When you're an off-road enthusiast, selecting a vehicle is an important process. At Alan Jay CDRJ of Wauchula, we're always delighted to recommend the Jeep Cherokee. With a variety of features targeted specifically to adventurers, this popular compact SUV handles challenging terrain with ease.
Whether you're navigating a bumpy road or driving over rocks, the articulation can help. Each of its components are designed for flexibility so that they can adjust to a range of obstacles. The Cherokee also features precise and responsive steering, making it easier to navigate around trees, stumps, and boulders.
Speaking of obstacles — any type of off-roading requires a significant amount of ground clearance. That's why the Cherokee sits high off of the road; it allows you to drive over bumps and boulders without bottoming out. Try it out by coming to our Wauchula dealership to take this SUV out for a test drive.